After a few months of … nothing, here I am again.
I heard a lot of rumors that exPE would be discontinued and bla bla bla.
Everything bullsh*t, but there was no real need for an Update.
In the past few weeks I worked on a lot of new stuff for the next big Update, exProfileEditor 2.0.
No promisses about the release date or the new features, but one big thing: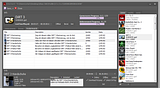 Yes, AvatarAward Unlocker.
For that purpose and for cleaning up, Im recoding (again) basic parts of the hole program.
Good News: all Profiles I tried till now worked without any problems, loading / saving is faster and … its just better for me.
Also, as you can see I got a new Site.
I moved away from a custom-blog-thing (coded by djekl) and installed WordPress on djekl´s Server.
Many people also asked for a PayPal-Donate Button … and there it is 😉
Feel also free to follow me on Twitter or facebook (buttons above).
Well, I will get back to VisualStudio now.
There will be a PUBLIC Beta of the new Version soon, so prepare for that 😉
greetings
v3n3