If you followed me on Twitter or read the last 2 Blog-Entries you MIGHT know that I work on "exProfileEditor 2".
Well, Base-Testing is done and everything is implemented into the GUI.
Ofcourse, everything still requires heavy testing with many different profiles, but Im pretty sure the Beta will be released soon.
Anyway, I always receive a massive amount of E-Mails per week and it looks like people expect exPE2 to be something completely new and different.
Well, sorry, but no.
Sure, the base-code is a completely different one and there are some new features + a lot of recode of the gui-elements, but in the end it looks just like the version before.
Theres no reason for me to re-do the hole GUI (yet), since it still working great.
Heres a screenshot from the current (far from done) version: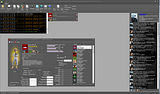 Under the GUI are a shitload of new / different things which allready give me a headache, but its a change for the good.
The "only" new features youre going to see is the AvatarAward-Unlocker … and maybe some other things, Im not that sure about that yet.

Again, dont expect big changes.
Sure, there are new features and a shitload of bugfixes, but it doesnt re-invent the wheel.
PS:
Oh and I will update the exGA and exAchPic Database as soon as Im near a 360 again.
Do NOT ask me about it anymore. Thanks.
And YES, exPE2 will still remain free for everyone.
greetings
v3